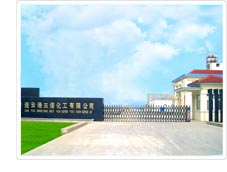 Nanjing Sannuo Chemical Co., Ltd. is a high-tech R&D, production and sales enterprise in chemical industry, with a fixed asset of CNY 108 million. At present, we have two subsidiaries:牋Hongze Furuide Chemical Co., Ltd (18,676sqm of lands) and Lianyungang Sannuo Chemical Co., Ltd (40,020sqm of lands). Under their supports, we sold CNY 183 million and CNY 192 million of products in 2016 and 2017 respectively.
With the help of professional R & D team and experienced technicians, we have been focusing on the comprehensive utilization of industrial chain of high-pure aromatic hydrocarbon new materials for long time, and then successfully developed the "continuous production process" for the first set of fluorescent brightener products of China independently. Up to now, we have developed a series of products, including p-toluic acid, o-toluic acid, p-Tolunitrile, o-Tolunitrile, o-cyanobenzyl chloride series, p- cyanobenzyl chloride series, o-aminophenol, and brightener series such as OB, OB-1, FP-127, KCB, and PF, etc. At present, we not only obtain the supply and cost advantages on raw materials, but also achieve the full and precise use of aromatic components; through reducing low-end consumption and even contaminant consumption, we have successfully promoted the added values of industrial chain.
There are a number of national leading production lines in our company now. Our products are widely used in synthetic medicine, dye, plastic and other industries, and are well in over 20牋provinces and cities of China as well as Japan, South Korea and India, etc.
Insisting on such corporate philosophy of 揵e dedicated and struggling, honest and enterprising, diligent and harmonious and adhering to such service principle of 搒ervice first, quality first, and customer first? we take market as orientation, establish good management system, make efforts to have honest business, and strive to get sustainable development in chemical industry.牋We look forward cooperating with customers to achieve win-win development and create a brilliant future!